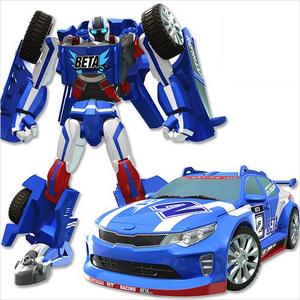 Athlon Beta is one of Kyle Hughes's three racing Athlons, along with Alpha and Theta. He supports the team with his flaming attacks and even hotter hip-hop beats, and always speaks in rap. Beta's is high-spirited and optimistic, so he's significantly more care-free than Alpha and is down for just about anything. Beta represents the courageous and stoic side of Kyle's personality. [1]
Beta is used for the City Races which involve not only speed, but also parkour skills.  
He can combine with Alpha and Theta to form Athlon Champion, and Alpha, Theta, Tornado, Valkan and Rocky to form Athlon Magma 6. 
Fiction
Voice Actor: 정재준/Jung Jae-joon (Korean), Doron Bell (English), more...
Personal
Appearance
Personality
Relationships
Abilities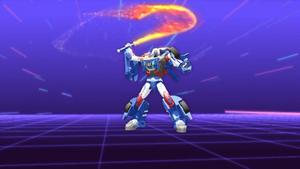 In contrast to Alpha, Beta's fighting style involves holding his ground and tanking hits before launching powerful counterattacks. Mostly shoulder throws.
Though initially weaponless, Beta was later given the Flame Whip... which was only used for one episode.
Beta's moveset is as follows:
Beta's spurt skill. It allows Beta to speed through once he charges power via drifting, though a 360-degree drift will cut it too if there aren't any curves to work with.
Flame Chariot (conjectural)
Beta's signature move. Beta transforms back into a car and charges forward, engulfed in flames.
Beta's finisher. The two circular panels on Beta's backpack open up, releasing two missiles; these missiles explode mid-air and scatter hundreds of fireballs, which rain down on the enemy.
Beta's dodgeball skill. Beta throws the ball with the Flame Whip, engulfing it in flames.

Toys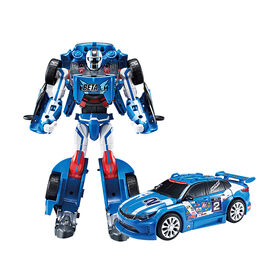 Athlon Beta/애슬론 베타 (2016)
Beta transforms into a 2016 Kia K5 Optima with spoiler and racing deco. With articulation in the arms, elbows, biceps, hips, knees, and ankles, his movement is significantly better than that of Alpha or Theta. Opening the panel on his chest reveals a slot where the Mind Core can be inserted.
Minipop Beta/미니팝 베타 (2016)
Instead of the usual mini Tobots, Young Toys opted to release one-button transforming "Minipop" toys for Kyle's Athlon trio. Minipop Beta, as well as Alpha and Theta, transforms from a car to a robot at the press of a button, but lacks all articulation except a slight bend in the elbow. The backdrop in the box can be used as a display in bot mode or a ramp in car mode.
A light blue Beta with metallic red stripes forms the legs of Champion.
A green Beta with red stripes forms the right leg of Magma 6.
Trivia
Background
Resemblances
Notes
Like Valkan, Beta has been eliminated in every Robot Dodgeball match he's participated in.
Gallery
Links
References
External Links