"
What's so complex about family? If you sit at a table and eat dinner together, then that's family.
"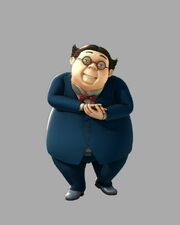 Diluk Octavious (옥디룩)
is not the brightest tool in the shed, and his eyes are smaller than his stomach. His specialty, other than consuming as much food as humanly possible, is to serve the villains of
Daedo City
. 
Fiction
Voice Actor: 양수영/Yang Su Young (season 1), 정경훈/Cheung Gyeoung Hoon (season 2), 박지훈/Park Ji Hoon (season 3 onwards) (Korean), Bon Reyes (Philippine English), Paul Dobson (English), Matt Lucas (British English), Michel Hinderyckx (French) more...
Personal
Appearance
Personality
Relationships
Toys
Tobot Figure Series Diluk (2014)
A simple action figure of Diluk, and because of his... unique body shape, has less articulation than the other Tobot Figures, with swivels at the head, shoulders, and legs with no knees that only bend 90 degrees. 
Trivia
Background
Resemblances
Notes
Gallery
Links
References
External Links