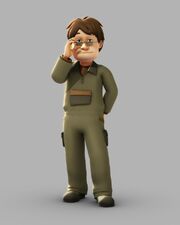 Franklin Char (Cha Doeun/차도운)
 is the caring single father that looks after his twin sons,
Ryan
and
Kory
. Franklin once used to work at a leading automobile company as an engineering expert, but currently works at a home garage car center. 
Five years ago, Franklin lost his wife in a car accident, which left him disabled and in a wheelchair. This incident inspired Franklin to make the Tobots, intelligent cars that are accident-free and moreover can act as guardians for his two sons.
Fiction
Voice Actor: 조호금/Jo Ho Geum (Season 1-2), 하룡이/Hal Yong-i (Season 3 onward) (Korean), Roger Rhodes (English, more...
Personal
Appearance
Personality
Relationships
Toys
Tobot Figure Series Car Professor Doeun / Franklin (2014)
A simple action figure of Doeun/Franklin. His packaging has him in a sitting position with a printed wheelchair insert on front, but unfortunately does not actually come with a wheelchair accessory.
Trivia
Background
Resemblances
Notes
Gallery
Links
References
External Links