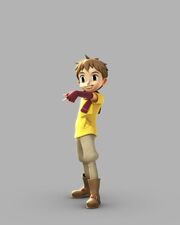 Kory Char (Duri/두리) 
is the twin brother of Ryan and the pilot of
Tobot Y
. He often speaks and acts before he thinks, but has a brilliant and whimsical mind that allows him to weasel his way out of trouble. 
He rarely shows Ryan respect, as he finds his brother too composed and boring. However, once their father goes missing, along with other new threats and dangers they face, Kory starts to rely on his brother more and more.
Fiction
Voice Actor: 오유진/Oh Yu Jin (Korean), Valin Shinyei (English), more...
Personal
Appearance
Personality
Relationships
Toys
Trivia
Background
Resemblances
Notes
Gallery
Links
References
External Links