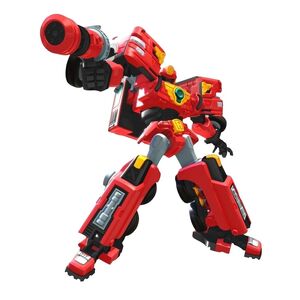 Tobot R (또봇 R) 
is a fire truck that
Dr. Noh
drives. Dr. Noh made this Tobot in fulfillment of his childhood dream of becoming a volunteer firefighter. After suffering injuries from an explosion, Dr. Noh lends R to
Neon
.
Tobot R speaks like a news reporter, and especially loves to do news coverages after successfully handling the situation.
He can combine with Tobot W, C, and D to form Quatran.
Fiction
Voice Actor:
Traits
Appearance
Personality
Relationships
Abilities
As a fire truck, R is equipped with standard firefighting gear, like a hammer and axe. A fire truck is no fire truck, however, without a trusty water hose - or, in R's case, his Water Cannon, used to douse fires and overpower enemies. He's also got some pretty long hoses; though they're usually attached to the Water Cannon for firefighting, they can also function as grappling hooks on their own.
R's moveset is as follows:
Water Blast/워터 샷건 (lit "Water Shotgun")
Instead of a constant stream, R launches a concentrated blast of highly pressurized water at the opponent.
The Water Cannon's stream is significantly bubblier. This move was unnamed in the dub and the command was just "Water Cannon".
Toys
Trivia
Background
Resemblances
Notes
R is one of few characters in the Tobot franchise who can break the fourth wall, as lampshaded by Officer Oh. This quirk is almost entirely removed in the English dub.
Gallery
Links
References
External Links
 

Tobots
Season 1
Season 2
Season 3
Season 4
Combiners
Etc.